Celebrating Friendship: A Cannon Beach Bridal and Boudoir Session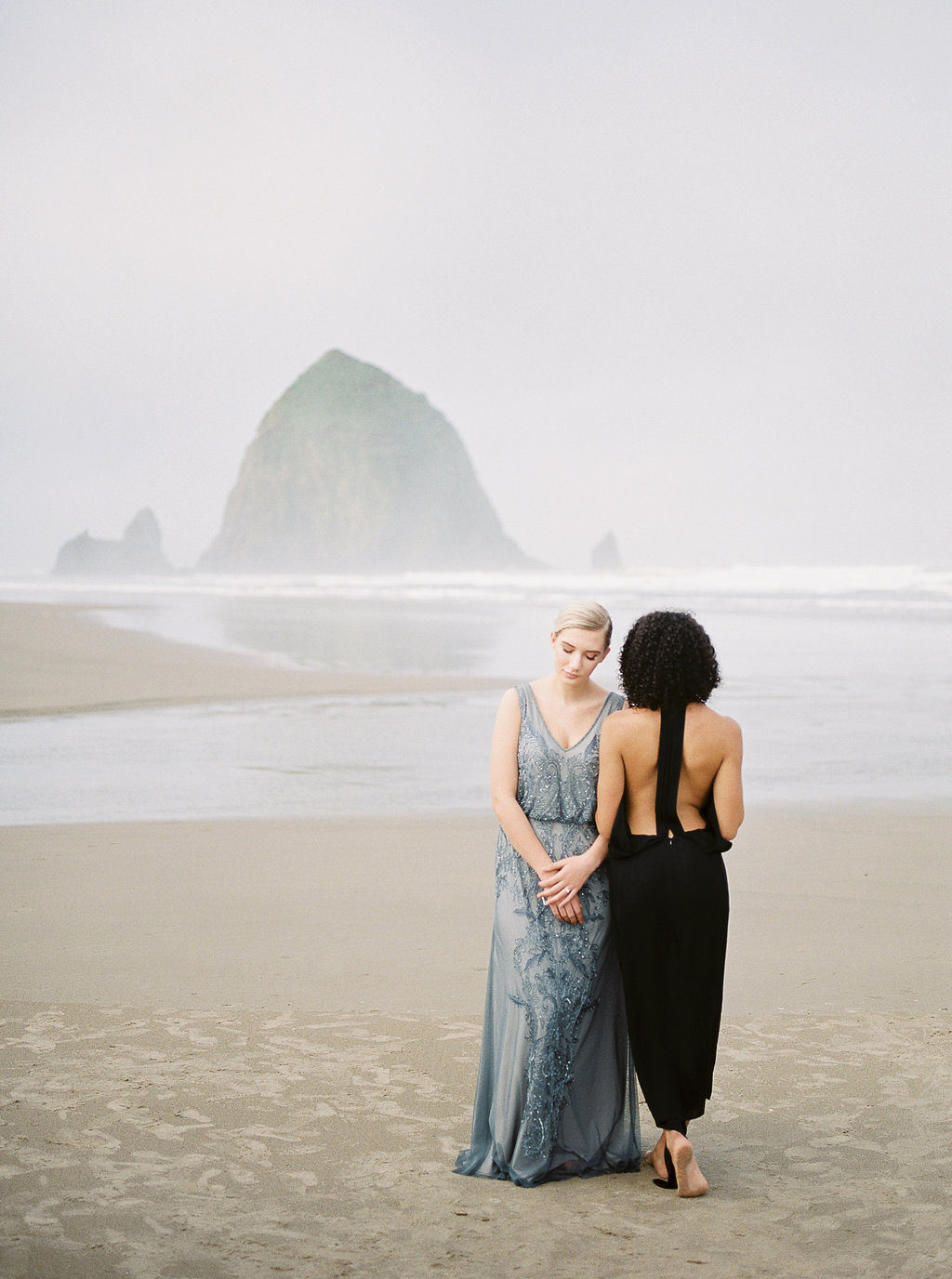 "A true friend unbosoms freely, advises justly, assists readily, adventures boldly, takes all patiently, defends courageously, and continues a friend unchangeably."~ William Penn
Oh my goodness. This Cannon Beach shoot turned out beautifully, but it does not compare to the beauty that was in person. I felt so inspired and so rejuvenated by the concept of this friendship editorial - two women, best friends, preparing to devote their lives to their soon-to-be spouses, celebrating their forever friendship with one another.
Our day, along with stylist Ebb & Flow began with a delicate and ethereal boudoir session that had my heart. The full-length Gibson Bespoke robe and dewy makeup by Brittany M Blanchard resulted in a genuinely angelic look and Cannon Beach couldn't have been a more perfect location for such beauty. From there, the story of these two friends began to unfold. Our models looked divine in Tamara Melon and Adrianna Papell (BHLDN Exclusive) and the skies turned a bit misty at this moment, signifying a shift in their relationship. I loved the relaxed tablescape with crawling vines in the florals by Gather Design Company. There truly was so much to be inspired by...
From stylist Ebb & Flow: "For this editorial, we envisioned what two best friends would do together the eve of their wedding. We drew inspiration from the idea that these two strong women had grown up together on the rugged, wild Pacific Northwest and were living together as roommates before both becoming engaged at around the same time. While weddings are the beautiful union of two people, they also represent endings. And in this case, represented the ending of these two women living with one another as they would both be living with their husbands after their respective weddings. They wanted to cherish their last day with one another, as they knew things would be forever changed once they became married....

Instead of doing the traditional rehearsal dinner, they wanted to have a special dinner on the beach (just the two of them), where they grew up and grew from girls into women, side by side. In our vision, they wanted portraits commemorating their friendship, while still reflecting their individual strength, beauty and uniqueness. It was important for these portraits to be of both of them together to capture that moment in time. But also to have individual portraits of themselves as women, representing the last night of their true independence. One bride-to-be is a little more romantic while the other is a little more wild and free.
This is reflected in one wearing a beaded, sheer grey a-line gown while the other wears a more fluid, black, gown with an open back. Both are modern, minimal, and organic in aesthetic. The more traditional, romantic bride wanted to do a beach boudoir shoot for her soon to be husband and these two best friends started off doing that in the morning, wrapping up with an intimate dinner under the stars, followed by watching the sunset and sitting by the fire (something they had done with one another for the past fifteen years).

We were inspired by the raw, rugged feel of the pacific northwest and all the neutrals found in nature there (the sands, greys, and greens). We kept the brides barefoot to represent this connection to nature and just being authentic and themselves running along the beach and celebrating their friendship and the excitement of what was to come. "